Dental Implants in Belleville, Ontario
A strong, comfortable solution for missing teeth.
Whether you have a missing tooth or multiple missing teeth, your comfort and confidence can suffer. Now with dental implants, you can have the look, feel and function of real teeth. The comfort, convenience and confidence that you deserve is just a treatment away. Consult Us for your FREE Dental Implants Consultation.
Single Tooth Replacement
This is an alternative to having bridge work or partial dentures. Usually when the tooth and its roots are damaged, the best permanent solution is a dental implant with ceramic crown. The implant is installed as a single unit, and you will have full functioning teeth that looks and feels natural. The treatment time is short (3-6 months) and there is minimal pain involved in this procedure.
Multiple Teeth Replacement
When you have multiple teeth missing, you may find that traditional dentures lack stability, and you may experience reduced function. We recommend the fixed bridge anchored to dental implants if you are missing teeth at the back of your mouth. If you choose this procedure, you will be able to preserve your facial structure, and prevent bone loss. This permanent solution is stable and secure, and allows you to eat whatever you desire.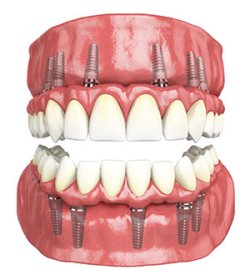 Full Arch Replacement
If you are missing all of your teeth, then the best option for you is to get a Full Arch Replacement. Modern advances gives us the ability to replace a full jaw with a fixed bridge anchored to dental implants. If you choose this procedure, you will be able to have a full mouth of teeth that functions naturally. This permanent solution is stable and secure, and allows you to eat whatever you desire. The fix will also preserve your facial appearance and prevent bone loss.
If you're missing a tooth — or multiple teeth — the team at Dentistry by the Bay can use dental implants to help restore your smile.
The Laser-Lok Advantage
Treated with our proprietary Laser-Lok technology
This helps your smile remain beautiful over time
Restoring and maintaining your natural smile
Safe. The material does not alter the body's energy meridians and is bio-inert.
Are you a candidate for Dental Implants?
Certain uncontrolled medical conditions may decrease implant treatment effectiveness, so first discuss your full medical history with your dentist. Patient results may vary. Only a trained dentist can determine the best treatment plan. Please ask our Hamilton dentists to explain the benefits and risks to determine whether dental implants are right for you.
Dental Implants and Insurance
The value of dental implants far exceeds conventional treatment options. Insurance policies vary but most cover a portion of the restorative procedure. Financing options are often available with competitive interest rates, and payments can be tailored to your budget.
Our Dental Services include : Endodontics (Root Canal) | Cosmetic Dentistry | Periodontics (Gum) | Children Dentistry | Preventive Dentistry | Restorative | Dental Implants | Prosthodontics (Dentures) | Sedation Dentistry | Night Guard & Sports Guard | Oral Cancer Screening | Oral Surgery | Emergency Dentistry.
Request an appointment with Dentistry By The Bay, dental office in Belleville providing dental implants to patients.
For dental inquiries Call: (613) 966 5118 or Email: info@dentistrybythebay.com.